About Gabrielle Zevin
(curtsey of memoirsofa.com)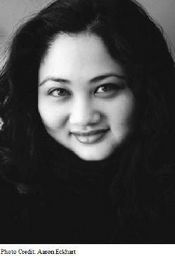 Gabrielle Zevin's books for adults and young adults have been translated into eighteen languages and received many honors. Her first young adult novel,
Elsewhere
, was nominated for a 2006 Quill Award, won the Borders Original Voices Award, and was a selection of the Barnes and Noble Book Club. She was nominated for a 2007 Independent Spirit Award for Best First Screenplay for
Conversations with Other Women
.
Gabrielle is a dog enthusiast, a Harvard graduate, and a New Yorker. Her fifth novel,
All These Things I've Done
, will be released in September 2011.
Where did you get the idea for

All These Things I've Done

?
Among other things, a dark chocolate-induced migraine that I had during the summer of 2009.



Did you base Anya or any of the other characters on real people?
All my characters come from life, but no one is taken whole cloth. Anya and I do have the same hair.
All These Things I've Done

is your third YA novel. Was writing and publishing it easier or more difficult than with your previous novels?
It was easier because the first two YA novels sold well, which meant my publisher was glad to have another.
How many more books will there be in the Birthright series? Will it be a trilogy?
I'm contracted for three, but I think the story is going to take four.
Are you working on any other writing projects that you can tell us about?
At this very moment, I'm finishing the sequel to
All These Things I've Done
. Then, I have another adult novel I'd like to work on (my third adult novel) and a screenplay or two that require tending.






If your house was burning and you could only save 3 of your books, which ones would they be and why?
The house is on fire! What happened?!? My greatest fear is being burned alive…
I'd take my computer because it probably would have whatever book I was in the middle of writing. Maybe I'd take the book I was in the middle of reading. At the moment,
Say Her Name
by Francisco Goldman. I'll need something to do while I'm at the hotel waiting for my apartment to stop burning down. I'd also grab
Margarettown
. It was my first published novel, and it's basically out of print, but I'm still fond of it.
I'm bad at favorites but, at this point in my life, the three novels I love reading the most are
An Equal Music
by Vikram Seth,
Charlotte's Web
by E.B. White, and
Old School
by Tobias Wolff. Although…If I had to read the same novel every day for the rest of my life, I'd probably pick
The Great Gatsby
. (You'll notice I've named six books—I really am bad at favorites.)
Who's your favorite fictional character?
This is an impossible question as I prefer many of the fictional people I meet to real ones. They have better manners, and when they are wicked, it is usually in interesting ways. Anne Shirley before she marries Gilbert. The Dursleys in
Harry Potter
—I think they get a bad rap. If I were going to write a fan fiction about Harry Potter it would be called, "Sympathy for the Dursleys."



Thank you for stopping by, Gabrielle!
For more information, visit Gabrielle on her:
Website
Facebook
Goodreads
Twitter
Read my review of
All These Things I've Done
here
!