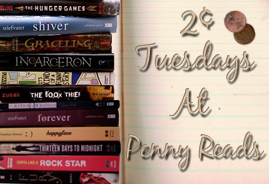 2¢ Tuesdays is a meme hosted by Penny at
Penny Reads
. It's a feature where book bloggers can weigh in with their two cents on book related topics.
This week's topic is:
Which book characters do you hate the most?
I have quite a few, here are four that I can currently think of (in no particular order):
1. Corrine Dollanganger from
Flowers in the Attic
*spoiler alert* In the beginning she's a kind and caring mother, but then she becomes a great big selfish bitch who only cares about money and her new husband! She lets her children fade away in the attic for years, and it's her fault that Cory dies! UGH.
2. Bella Swan from
Twilight
This needs no explanation.
3. Nora from
Hush, Hush
She annoyed me SO MUCH, for half of the book I wanted to slap some sense into her. She was so naïve! For more ranting, you can read
my review
of
Hush, Hush
.
4. The Grandmother from
Flowers in the Attic
How could she have been so cruel and heartless? She should not have blamed the children for their parent's mistakes! I hear there's a prequel called
Garden of Shadows
that is about how the grandmother became so terrible, but I don't want to read it because it's written by a ghostwriter, not V. C. Andrews herself.